About Me
Well it's probably about time I updated this part of my profile. I got my start into fanfiction writing on AFF.net (No YIMs please) with Inuyasha based stories, before finding and writing on SS briefly before it was merged into Dokuga.
Since that time I've mainly written stories, mostly one shots at that since I seem to have a problem finishing my chapter stories if they're ten chapters in length or more. I'm about to embark once more on such a story to bring me back to the land of writing after a long absence intermingled with occasional oneshots and drabbles, mostly for chat prompts. I'm also looking into doing some Fanart as well, which was never a big talent of mine.
Other things I've done is challenge the predominant artists on this site into drawing extremely naughty and wicked things, for which Lord Fluffy Pants shall eternally try to rip himself off the pages and come hunt me down with a vengeance of a thousand painful deaths in revenge for.
Anyways, this touching of my profile should help signify my revival into the world of fanfiction. See you guys around.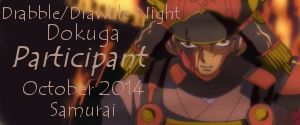 User Status
| | |
| --- | --- |
| | 91739 |
| | OFFLINE |
| | 15 years ago |
| | 2 years ago |
| | 2 years ago |
| | 25 |
| | - |
| | - |
| | - |
| | Walter205 |