About Me
<----My amazing sona was done by the talented Fox!!
Name: Lady Kirara
Age: 25
Occupation: Currently I'm a full-time college student studying Office Administration & Business & a full-time Admin Asst.
Tidbit: I don't really mind what you call me, as you can see, I love Sango's little firecat Kirara. Feel free to call me Dev if the mood strikes you. I respond to either. I'm usually a pretty quiet person who enjoys making graphics for people, although I cannot draw to save my life. >.< I tend to read quite a bit of fantasy and poetry and write a fair bit of my own as well. I have a lot of ideas in my head for my favorite couple, so you may see sporadic updates from me, as I'm usually pretty busy with work and school. I'm always open to chat about anything and everything so send me a message or find me on the forums.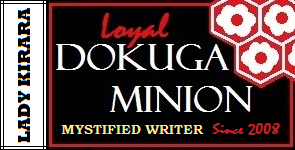 Have anything else you want to know about me? Feel free to drop me a message. I'm always around somewhere :3
Find me on FF.net || And on Live Journal








Update Schedule:
Soul Fire: DDN's

Hopeless Insanity: Updated daily
The Grey Scale: Updated every Sunday
Descent into Darkness: Updated monthly (hopefully)

User Status
| | |
| --- | --- |
| | 57650 |
| | OFFLINE |
| | 15 years ago |
| | 4 years ago |
| | 8 years ago |
| | 44 |
| | - |
| | - |
| | - |
| | Lady Kirara |