About Me

Amazing art by Fox!
I'm Shrii, but most of my friends call me Tess or Bot and ya'll are welcome to as well - so feel free to call me whatever you wish. I'm a 23 year old daydreamer, and I admit I tend to have my head in the clouds more often then I should. I'm also a pizza munching, pasta guzzling Italian from Livorno, Italy. My life sometimes seem split in two as half of my year is spent in the states at Baylor University and the other half in Italy with my family. It's almost like I'm living two lives and at times it can be rather stressful. I hope that I have the strength to make it through medical school so that I can help support them. My family is the most important thing to me.
Along with being your average college student that lacks a life due to the cruel mistress known as Academia, I'm a self proclaimed nerd, closet artist, Mathlete, and wannabe writer. I say wannabee writer because I have a passion for writing but writing sure doesn't have a passion for me. I have so many plots running through my head but all that I can cough up normaly is a research paper. School has slaughtered my creativity, T_T. I'm a music addict and it's almost impossible to catch me without my iPod blaring music into my ears, or music playing loudly in my car. I even sleep with my iPod, it's my preeeeeeecious.
I have a huge love for tattoo's and have a rather large one of my own on my back that represents my parents and my best friend (my dog ;3;). I would like to get at least one more in another location where it can be hidden on the job. I also have more piercings then the average person and plan to get more, karma goes out to anybody who can guess how many I have.
And before I bore you all, one last thing, which is also the most important thing of all...
I collect rubber duckies CAN I HAZ SOME PLZ?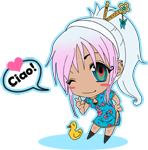 Click Shrii to view my Deviant Art account ;3;.


User Status
| | |
| --- | --- |
| | 22465 |
| | OFFLINE |
| | 11 years ago |
| | 3 years ago |
| | 9 years ago |
| | 44 |
| | - |
| | - |
| | - |
| | Shrii |