About Me
Hey everyone!!! I'm Mari (NOT MARY but Mari like Mario without the 'o'), but I mostly go by Yuuki, and I love the couple Sessh and Kag! I've been writing now for well over three years! I also love to draw but since I do not have a scanner and my Wacom had yet to come, my fanart will not be posted until then :(
I'm kind of a stay at home person so I'll be have active in the challeges and what nots (hope to win a few things and get a lot of banners!)
I really need help in the editing department because as much as I write I always seem to make the simplist mistakes. :( So any help would be loved.
Love Reviews and see you soon!
-Mari!!!
P.S - To quote my forum signature "Of course I'm out of my mind! It's dark and scary in there!!!"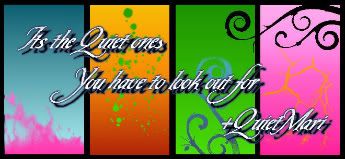 Thanks r0o for the banner!
"My back is stronger than my legs, because I can take hard work without complaint. My legs are stronger than my arms because I need to kick anyone's ass who dares to mess with the ones I love. My arms are stronger than my head because I push myself further each day. My head is stronger than my heart because I know I'm capable of great things. My heart is my weakness because I love everyone easily and am Not ashamed of to say it. " --Mari
User Status
| | |
| --- | --- |
| | 18757 |
| | OFFLINE |
| | 9 years ago |
| | 12 days ago |
| | 7 years ago |
| | 13 |
| | - |
| | - |
| | - |
| | QuietMari |
Main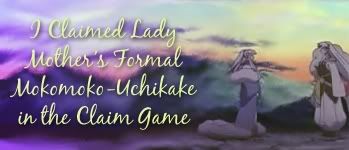 Thanks r0o for another awesome sauce banner x3!!!
Items, Clothing and other things for Betrayal's Greatest Romance:
Song sung by Kagome at the engagement party: Christian Aguilera's Fighter
For Inuyasha's Suit for the engagement party Click here
For Koga's suit for the engagement party Click Here
For EXACTLY what I pictured Sesshoumaru to look like at the engagement party Click Here
For Sango's dress for the engagement party Click here
For Ayame's dress for the engagement party Click here
For Kikyo's dress for the engagement party Click here
For Kikyo's Ring engagement Click here
For Kagome's dress for the engagement party Click here
~!~
Coming Soon:
To the Victor Goes the Prize - Rated T/M/MA

Kagome and Sango are traveling through a remote part of the Himalayas when a sink hold catches them by surprise. Knocking on deaths door, the two are suddenly saved and pulled back in time to an era unknown. The Tatach Tribe is there to greet them and everyone is clamoring for the attention of the change looking females. Including the rivaling chef's sons.

Stopping the World - T/M/MA

Kagome watched as all her friends died around her, one after another in the duration of a minute. She wants to save them, wishes she had the power to do something other than reach out as the bodies go cold. She can't take it! What did she do for this to happen! It must STOP! ....And so it did. The whole world stopped. Now what?

Its a Matter of Perception - T/M/MA

If you see a dog before you, growling and barking you think 'he's not friendly; he'll hurt me.' If you see a man playing animatedly with children you think, 'he's a family guy, very loving.' If you see a guy on a motorcycle covered in tattoos you think, 'total bad boy.' But if you see a strong man crumble to his knees in sobs that would break anyone's soul, what do you think? What if what you thought about everything you saw, was wrong. Assumptions are almost always wrong.
Forum
Forum Statistics
Forum Ranking
Pup

Total Posts
51
Fanfiction
QuietMari has 1 stories
*New Version of Betrayal's Greatest Romance* Lies, desire, and lurking evil are all anyone need in this day and age. A broken heart and a waiting Daiyoukai are the cross roads of something more than destiny. A warning to follow of impending destruction that could be stopped, but what fun would that be? Sometimes, everyone deserves a sweet lie for happiness.
Rating: MA  -  Universe: Alternate  -  Status: Incomplete  -  Category: Chapter Stories  -  Created: 22 Jun 2013  -  Updated: 07 Nov 2013
Genre: Action, Angst, Drama, Erotica, Humor, Kink, Romance, Tragedy  -  Chapters: 6  -  Reviews: 30  -  Words: 48,181  -  Reads: 7,802
Fanart
Total number of images: 1

Favorite Fanart
Wall
This user currently doesn't have any posts.