Error
About Me
Original Novel: You can now find one of my original novels online. It can be found here: https://www.jukepopserials.com/home/read/1412  and is for 18+ readers only.
Alright everyone, the count down to my final fanfic is on. There is still quite a bit to do, yes, but this is all I will be doing. I seriously need to get back to my novels.
Currently working on: Updated 02/21/14
Fang's Master-Currently 915 chapters of unknown posted. There are three big scenes left; though it make take a few small ones to connect them. There will be no sequel.
Rewriting History-Currently 12 of 19 chapters posted. No sequel.
Jaken's Ballad-Up to part 194 so far. I know exactly where I am ending this story, but it still has quite a ways to go. No sequel.
The Seven: Wanted Dead or Alive-Up to part 136. No idea how many planned. No sequel.
Beneath my Boughs-3 chapters out of 10 posted; each have 10 drabbles. No sequel.
Sequels or other stories not started yet:
Story to Seven Sins challenge- Seven chapters planned. Outline is almost finished. No sequel.
Story to Wanted Challenge-Six chapters planned. Outline is finished. No sequel.
Guardian of the West-Sequel to Warriors of the West of course. 24 chapters planned as with the first one. Have about 1/2 of the outline worked out. No third book.
Of time still kept frozen-Sequel to Of time kept frozen. One-shot that I am still working on outline for. No sequel.
My last fanfic- Won't say anything about this story other than the fact that it brings together my beginning of fan fiction and my end of fan fiction. Ranma and Inuyasha.
And that will be it, other than an occasional one-shot thrown in the mix for raffles or exchanges.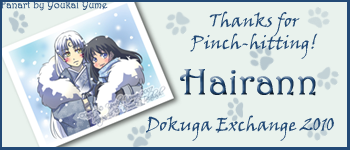 Above banner by the lovely Sugar-chan.
---
FF.Net: http://www.fanfiction.net/~hairann
Unsung Heros: http://iy-unsung-heros.livejournal.com
All Systems Red: http://allsystemsred.org/index.php?option=com_comprofiler&task=userProfile&Itemid=4&user=85
Inuyasha Fanfiction.com: http://www.inuyasha-fanfiction.com/viewuser.php?uid=396
Live Journal: http://hairann.livejournal.com
Twitter: https://twitter.com/Hairann1983
User Status
| | |
| --- | --- |
| | 73741 |
| | OFFLINE |
| | 9 years ago |
| | 4 days ago |
| | 3 years ago |
| | 77 |
| | - |
| | - |
| | - |
| | Hairann |